Alles over onze Peugeots, voornamelijk de 504 / Tout sur nos Peugeots, en particulier le 504 / All about our Peugeots, especially the 504
Onze Peugeot 204 in meer detail / Notre Peugeot 204 plus en détail/ Our Peugeot 204 in more detail
Details 204 2-Doors Convertible / Cabriolet 1969 - 1.1 Carburetor
"Dans son jus". For a long time we had this type of 'little baby' Peugeot in our minds, but it was never very urgent. Accidentally stumbled across this one and decided to go for it. Bought for 1.750 Euros in March 2007. It had been in storage for at least 10 years so let yourself surprise !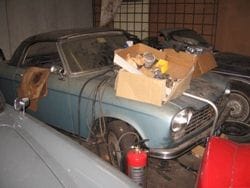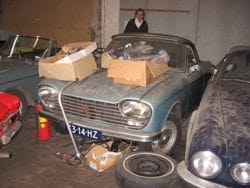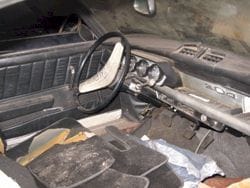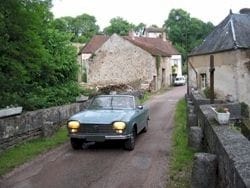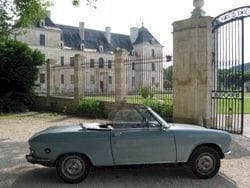 We are well used to a shot in the dark but it took quite some $$ to get it on the road again. Is it worth it.... I guess not a question I can answer. Fact is that it is fun to drive. It handles beautifully and the engine is very vivid. We notice that somehow people are more attracted to it than to all of those nicely restored examples.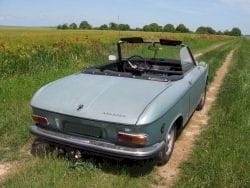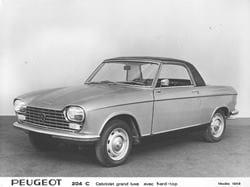 1968 Convertible Grand Luxe Hardtop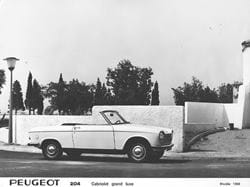 1969 Convertible Grand Luxe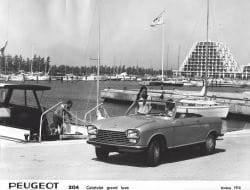 1970 Convertible Grand Luxe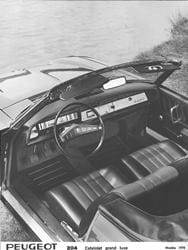 1970 Convertible Grand Luxe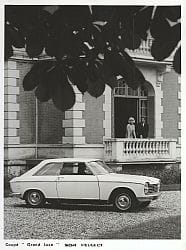 A1 Dealer Posters
&
Brochures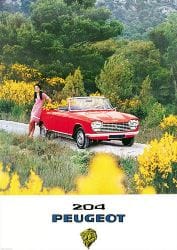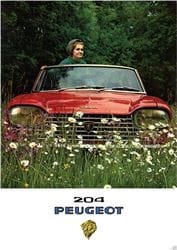 Owner Manuals
I was able to find a band new original Dutch one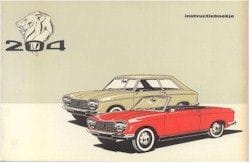 1967 204 C Neerlandais 1ere - No 1074 7-67-2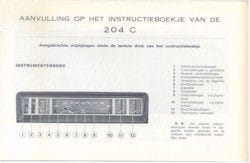 1969 Neerlandais - 9-69 - No 1322 N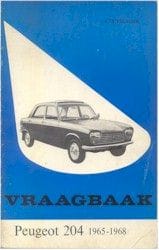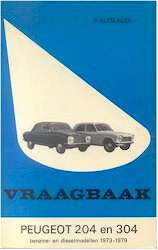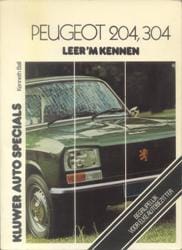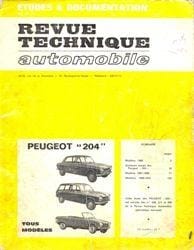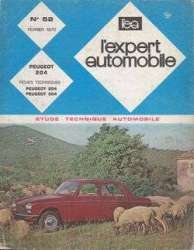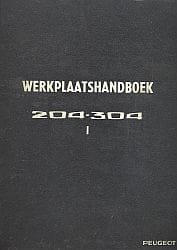 Workshop Manual Part I - No 812 I NL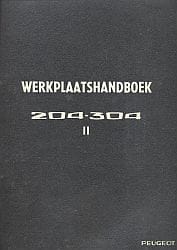 Workshop Manual Part II - No 812 II NL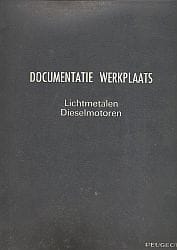 Workshop Manual Diesel Engines - No 2240 Su NL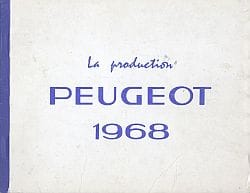 Peugeot No. 1068 La Production Peugeot 1970 - F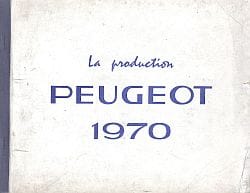 Peugeot No. 1340 La Production Peugeot 1970 - F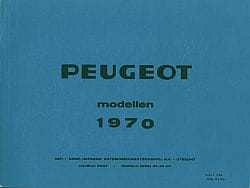 Nefkens Gamma/Gamme 1970 - NL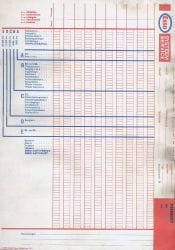 ESSO Maintenance Card (back)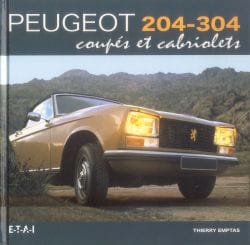 P. 204-304 Coupes et Cabriolets - FR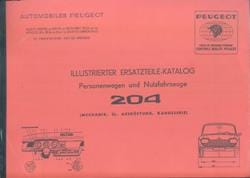 Onze overige Peugeots in meer detail / Nos autres Peugeots plus en détail/ Our other Peugeots in more detail
Details Overige - Detailles Autres - Details Others
Details 205/405/406
205 3-Doors Van 1987 - 1.8 Diesel
Not a mistake, but I couldn't pay enough attention to a 504 at that time because of my demanding job. This car was a 'Van' (who said Vans are big cars...) and therefore lacked its back seat. Ideal ! The boot looked often more like a 'garbage bin'. The mounted 1.8 liter diesel engine is very powerful for such a small car and together with the excellent suspension system it makes these 205 go like a 'little devils'. I normally drove it with my right leg stretched. It's top of 140 km/h always felt very good and safe. Once (as you can see), we got stuck in the middle of nowhere in the middle of the night and me and my wife tried to sleep in the back after having stuffed all the luggage on the front seats. Although the boot looks pretty big I can tell you the I do not recommend it if you are over 1.50 m, or if you ate too much garlic.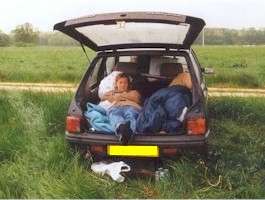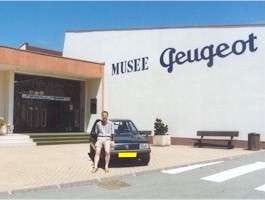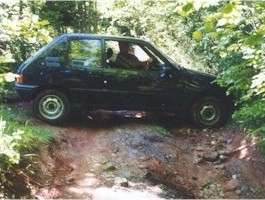 205 5-Doors 1990 - 1.8 Diesel
When we came back from our period abroad we needed a no-nonsense car because there we other more important things in life to settle at that moment. Because of the excellent experience with the blue one above we simply could not resist this one. Very easy to handle and just an excellent choice when you are looking for an economic but reliable car. But as you can guess, after a few months it had to go again because of the 504 virus striking back again.....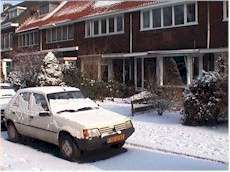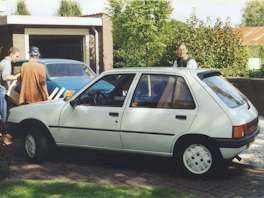 405 GR Saloon 1988 - 1.9 Carburetor
Once a guy stopped in front of my door. He always saw me busy with those old 504's and wondered if I wanted to have his 405 for free because he had bought a 406 and didn't want to bother trying to sell his 405.... Any more cars are welcome guys !! The engine needed some attention (gasket), but besides that it's was still in very good condition. We did another 50.000 km in one year on LPG on top of the 345.000 km it already showed on the speedo !! Because of its high mileage and considerable costs coming up it had to go early 2004. The other good thing about this story is that when I told my wife's auntie about the 'gift' she promised me her golden 307 she had just bought when it would have the same age. HELLO AUNTIE, I HOPE YOU READ THIS ONCE AND REMEMBER !!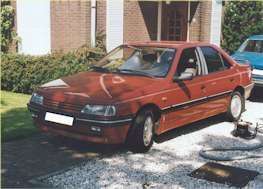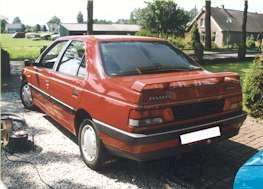 405 GR Estate Airline 1995 - 1.8 Injection Automatique
This car looked like a winning lot from the lottery. We bought it in January 2004 for just over 2200 Euros with acceptable mileage. It has lots of fabric options (I love the electric sunroof) and besides that it has an automatic gearbox an runs on LPG (exactly what we were looking for). Unlike the other 405 we drove before, you can't really drive too fast with this one. It has just enough power to not feel uncomfortable on the road, but who cares. After fitting the much more comfortable chairs from our former 405, a mid-arm rest and a cruise control, it's only relaxing and relaxing and relaxing. But as you can see below another one came into the picture so I sold this one for 850 Euros to a happy family man and was still going strong after 330.000 kilometers.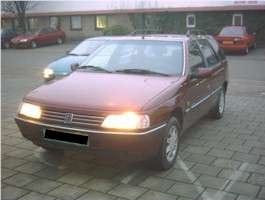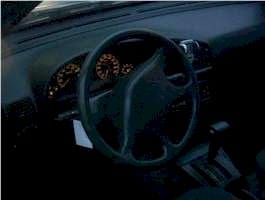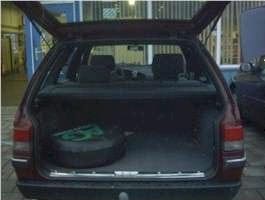 405 Estate Executive 1996 - 2.0 Injection Automatique
Prices of 2nd hand cars in England are amazing, while the cars also tend to be more luxurious than on the European mainland. I have been following the ads for a while, trying to spot a decent successor for the 1995 Airline break. It wasn't very urgent, but we do lots of miles a year, and there was a period in late 2005 that it had some vague engine problems. Time to have something at hand. The focus was on a 405 Executive Estate Automatic, with the 2.0 liter engine and loaded with options. Found one  in Aquamarine green with low mileage for virtually nothing (1500 Euros). After thorough cleaning, it was safely stored for almost a year waiting to be used one day (since the Airline engine problems were suddenly solved by disconnecting the Lambda sensor cable), but that proved to be a long period if you know you can enjoy full leather trim, heated seats, more power, more safety features, and so on, and so on. Finally in August 2006 we decided to get it officially imported and with its recently mounted state of the art Vialle LPG system we drove like kings but spend a servants wage on petrol.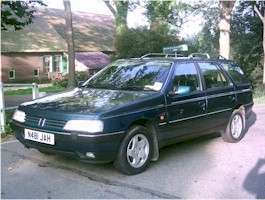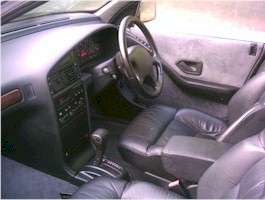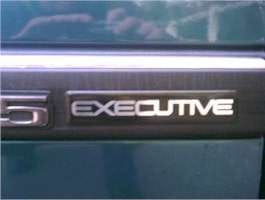 406 Estate V6 Gentry 2004 - 3.0 Injection Automatique
Very, very nice car to drive.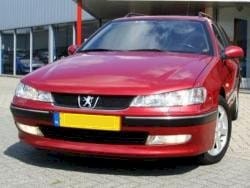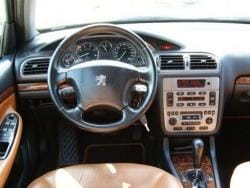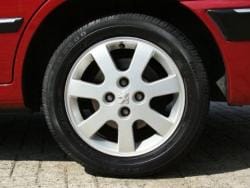 Our Peugeots - Restauraties / Restaurations / Restorations - Click TOGGLE to open and close
1969 Sedan - Berline - Saloon
| | | |
| --- | --- | --- |
| Rotten: | Renewed: | Remove all paint where necessary: |
| | | |
| Working on the parking scratches: | Primer:  | More Primer: |
| | | |
| Looks already very different: | Old Interior removed: | Doors - Conservation and Rebuilding: |
| | | |
| Working on the Sunroof Frame: | Wow.... | New Upholstry: |
| | | |
| | |
| --- | --- |
| BEFORE: | AFTER: |
| Compare Exterior: 30 years paint - dull | As new again |
| | |
| | |
| Compare Interior: Original brown but worn-out | Genuine black leather with red carpets as new |
| | |
1975 Coupe V6
From OK to a potential disaster 2007-2019

Work has started early 2021

Making progress after summer break
1979 Sedan - Berline - Saloon
| | |
| --- | --- |
| BEFORE | AFTER |
| Compare Engine: Pretty dirty still | Cleaned and well serviced |
| | |
| Compare Exterior: Not too bad before | But much better now |
| | |
| Compare Interior: Looks OK, but in reality very dirty | Thoroughly cleaned and parts replaced where needed |
| | |
Our Peugeots - Ritjes & Fotosessies & Artikelen / Rides & Shoots & Articles - Click TOGGLE to open and close