Our Peugeots – Ritjes & Fotosessies & Artikelen / Rides & Shoots & Articles – Click TOGGLE to open and close
2001 Ride - Tour de Vosges
2003 and onward Shoot - Garden Deterioration Process
I'm taking pictures once, twice a year of our '74 coupe. It shows the deterioration process of the car.

2004 Shoot - Russian Car Magazine
Promised appearance in Russian car magazine 2004/2005:
Story:
In November 2004 I was contacted by a French/Russian reporter living in Paris and part-time working for the Russian car magazine Automovilia (http://www.automobili.ru). He had set his mind on writing an sphere article about the year 1968, around three cars that first saw the light in that particular year. A Volga M45 (which he owned himself), an Audi 100 and a Peugeot 504. Through the Internet he had found both the Audi and the 504 in the Netherlands and after a lot of emails we were ready to shoot on a Saturday in late November. Some of the images I made myself during the sessions you can find below. I don't think the article ever appeared, but the story continued…………..
The Volga did not start enthusiastly and definitely had problems running smoothly and it definitely looked like an ignition problem. Somewhere at 3/4 of the session we were again driving to another location when I heard an immense explosion coming from outside. When I looked through the mirror I saw the journalists hands in the air. A short investigation learned that the exhaust pipe had literally busted open over a length of 40 cm !! So in the end the Journalist went back to Paris by train and the Volga was left behind with me. After I had it repaired I had a chance to drive it for some miles, but believe me, you don't miss anything if you haven't…….
The journalist liked the 504 so much that back home he started to look into 504 ads. and notified me about one for sale in Germany. This actually triggered directly the purchase of number 13, the chocolate 1976 GL Automatique.
2006 Shoot - Compare 1969 & 1979
Im going to show here detailled differences between the 1969 and the 1979 model.
2006 Magazine - Klassiek & Techniek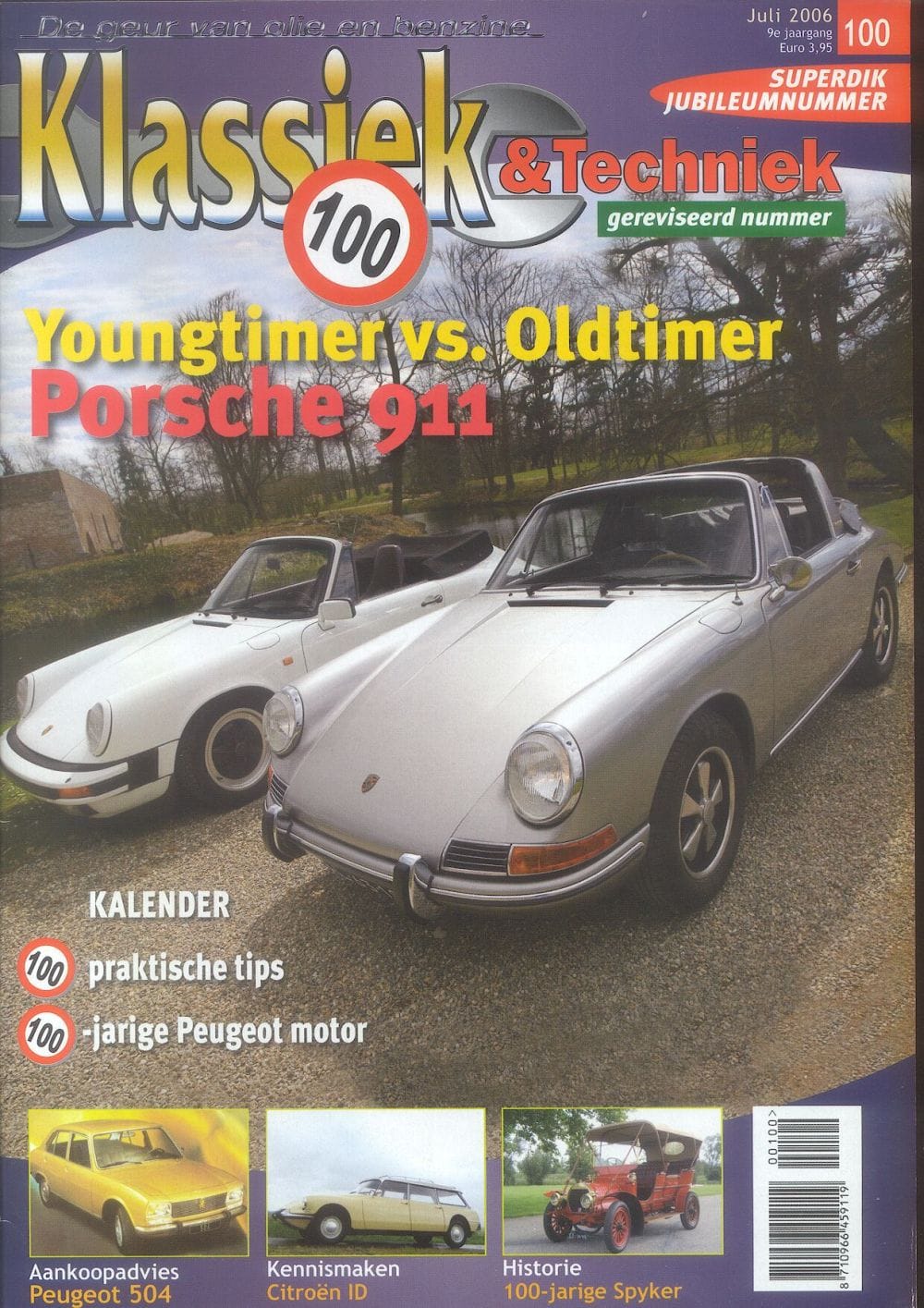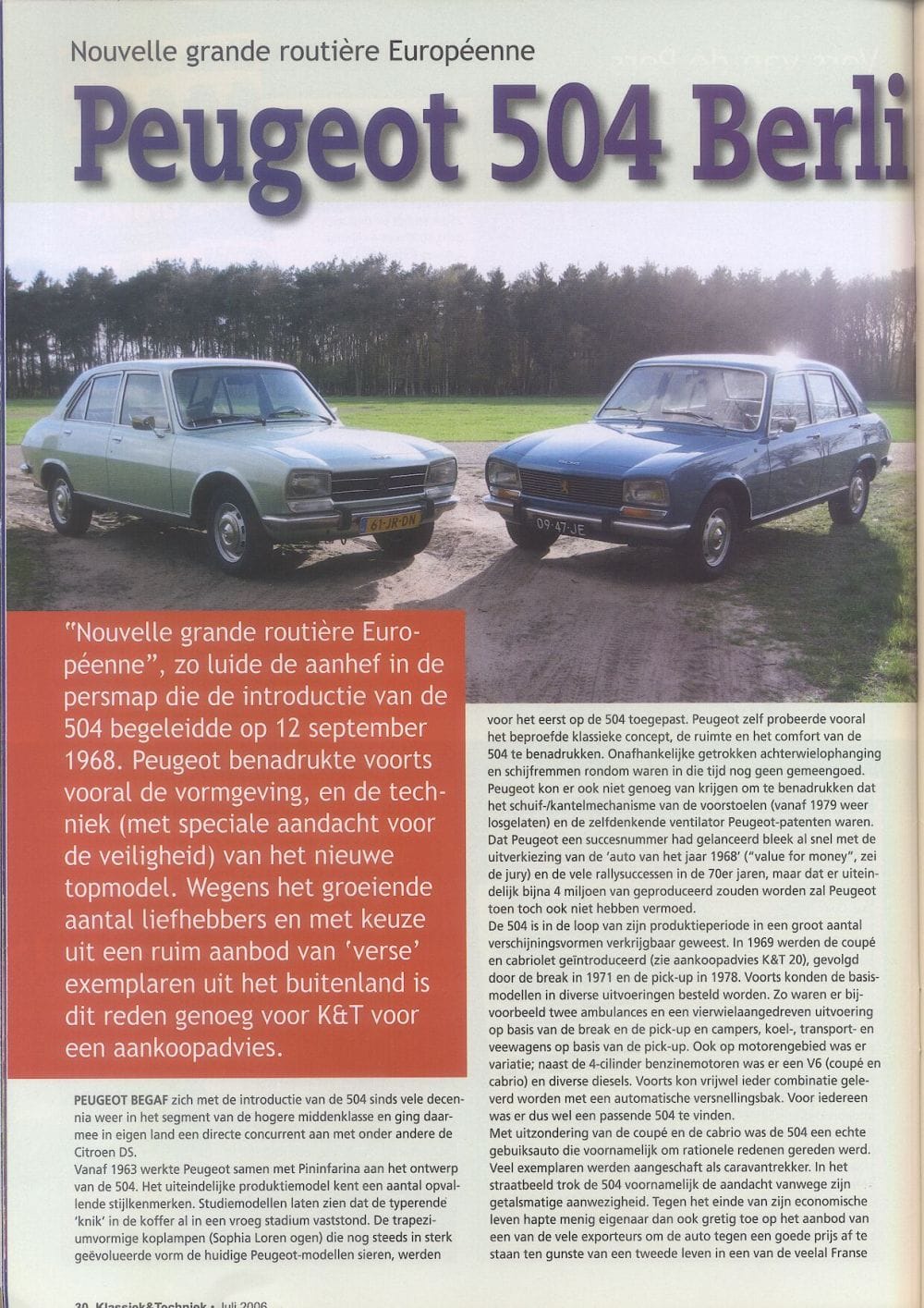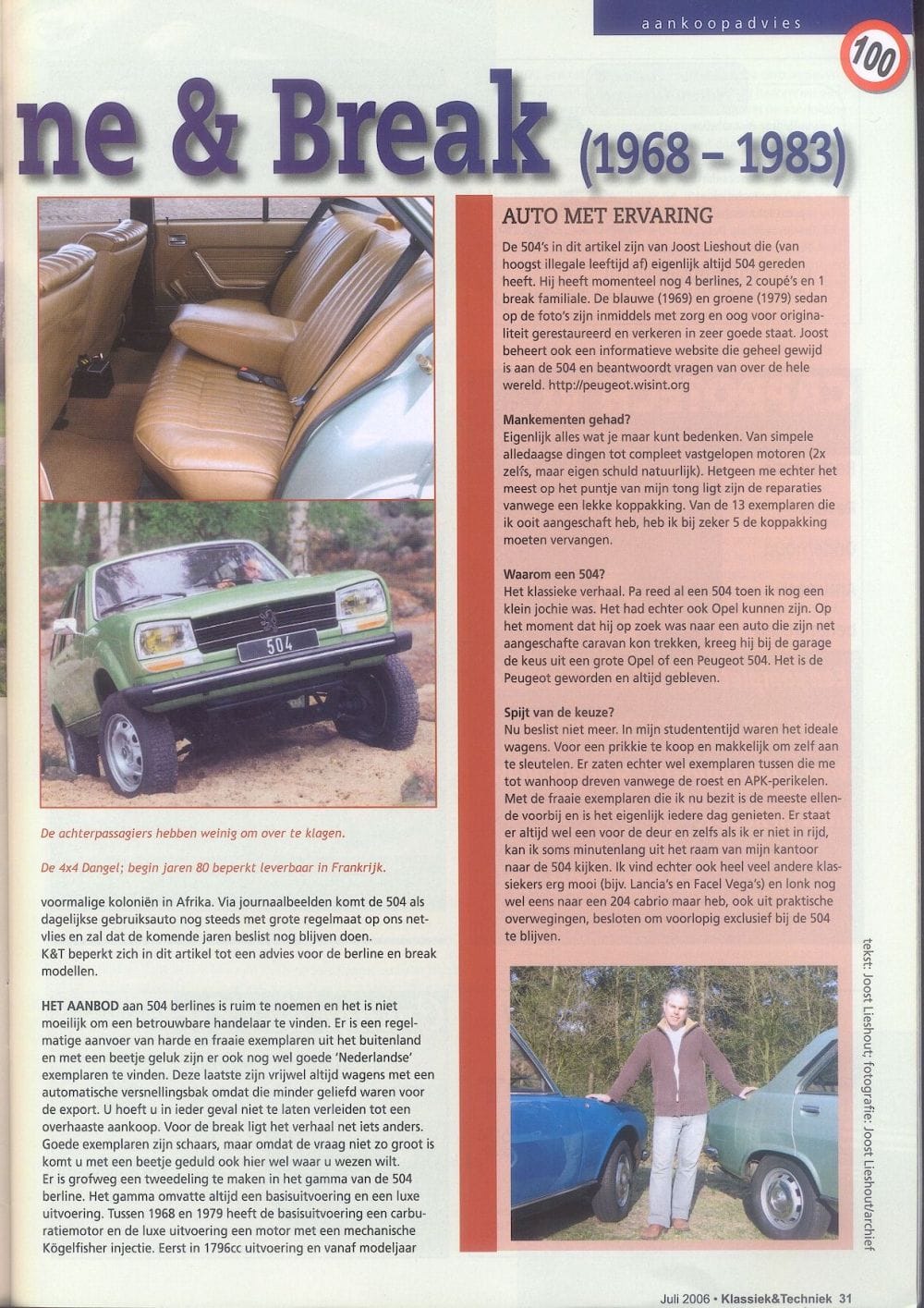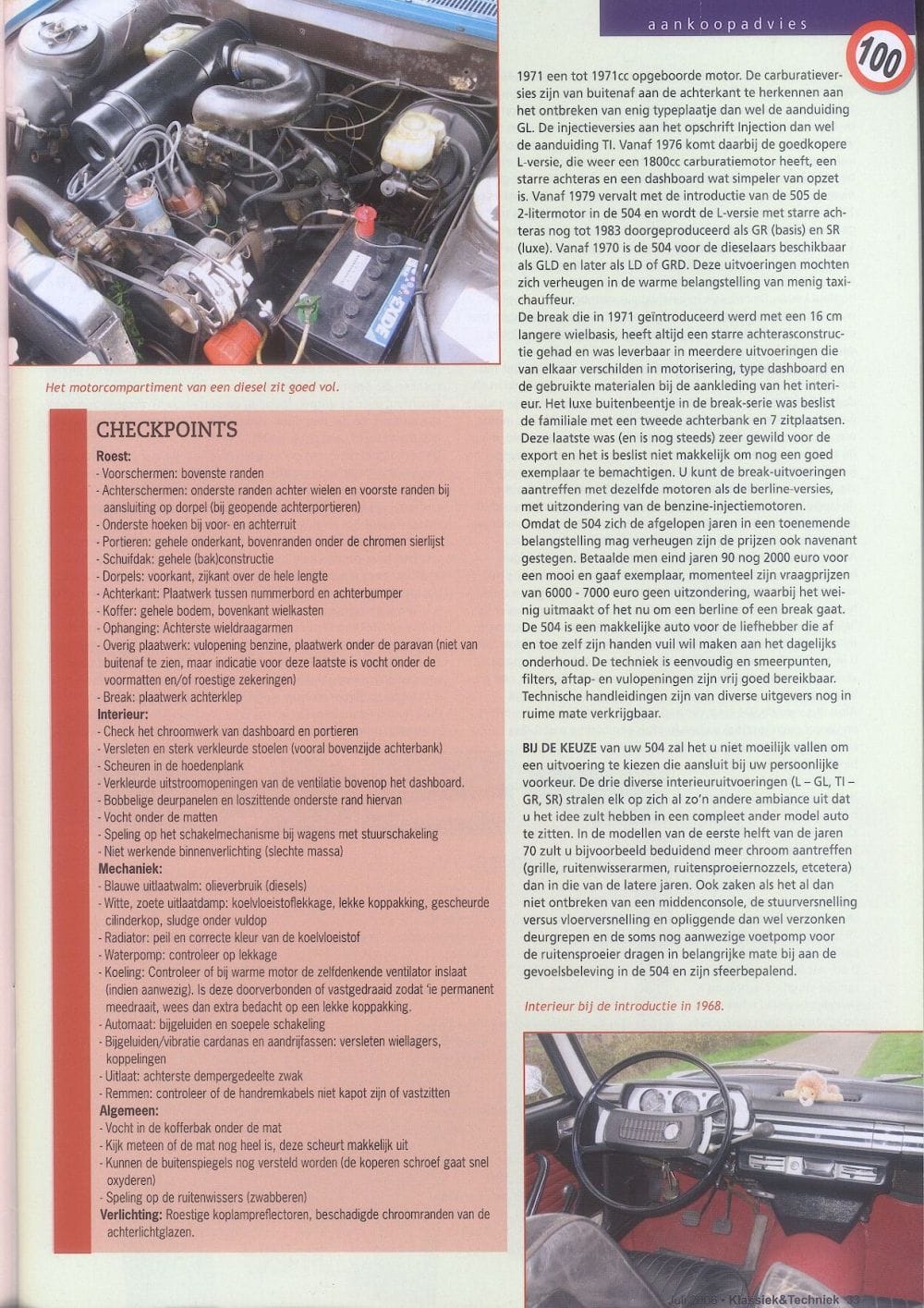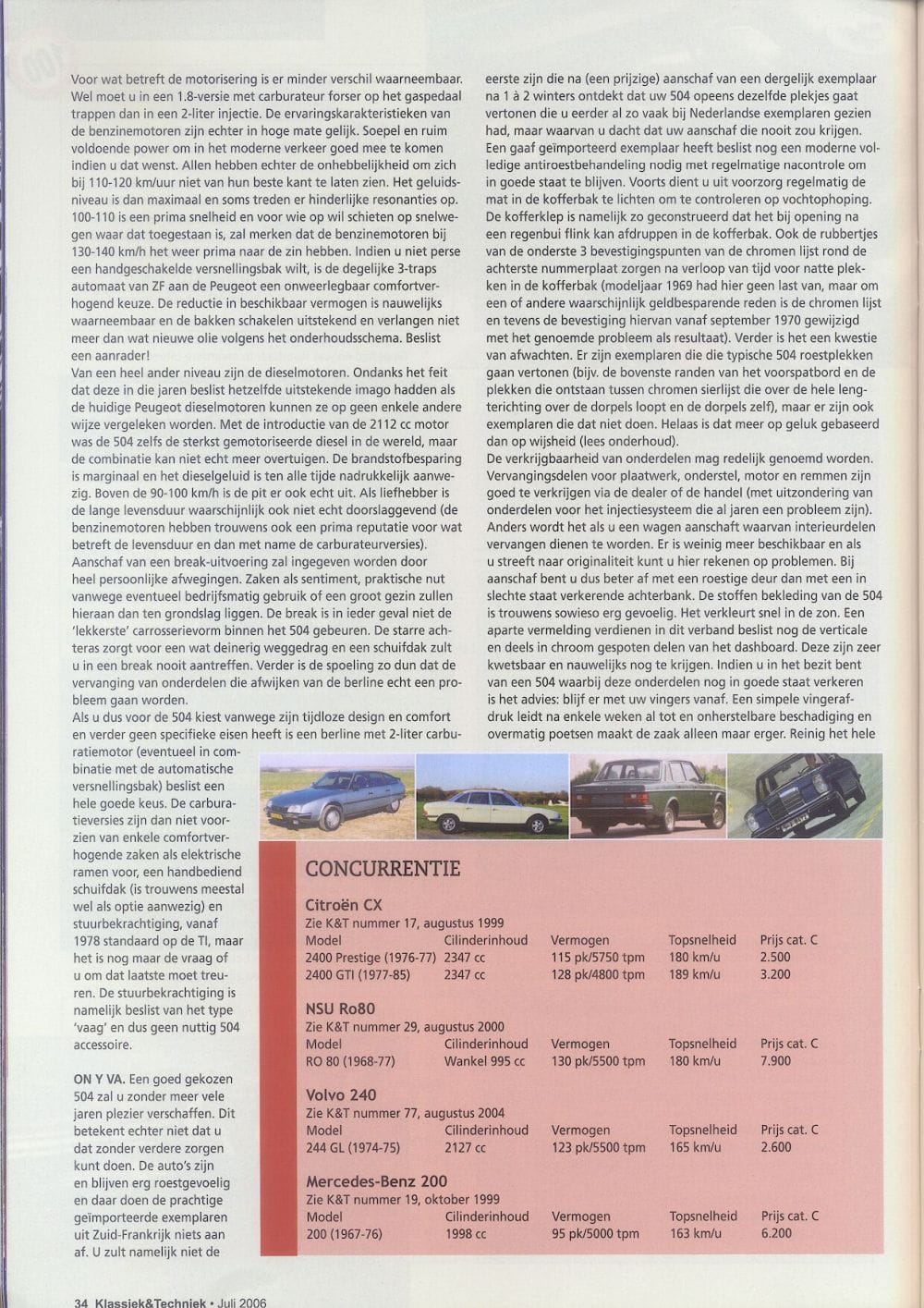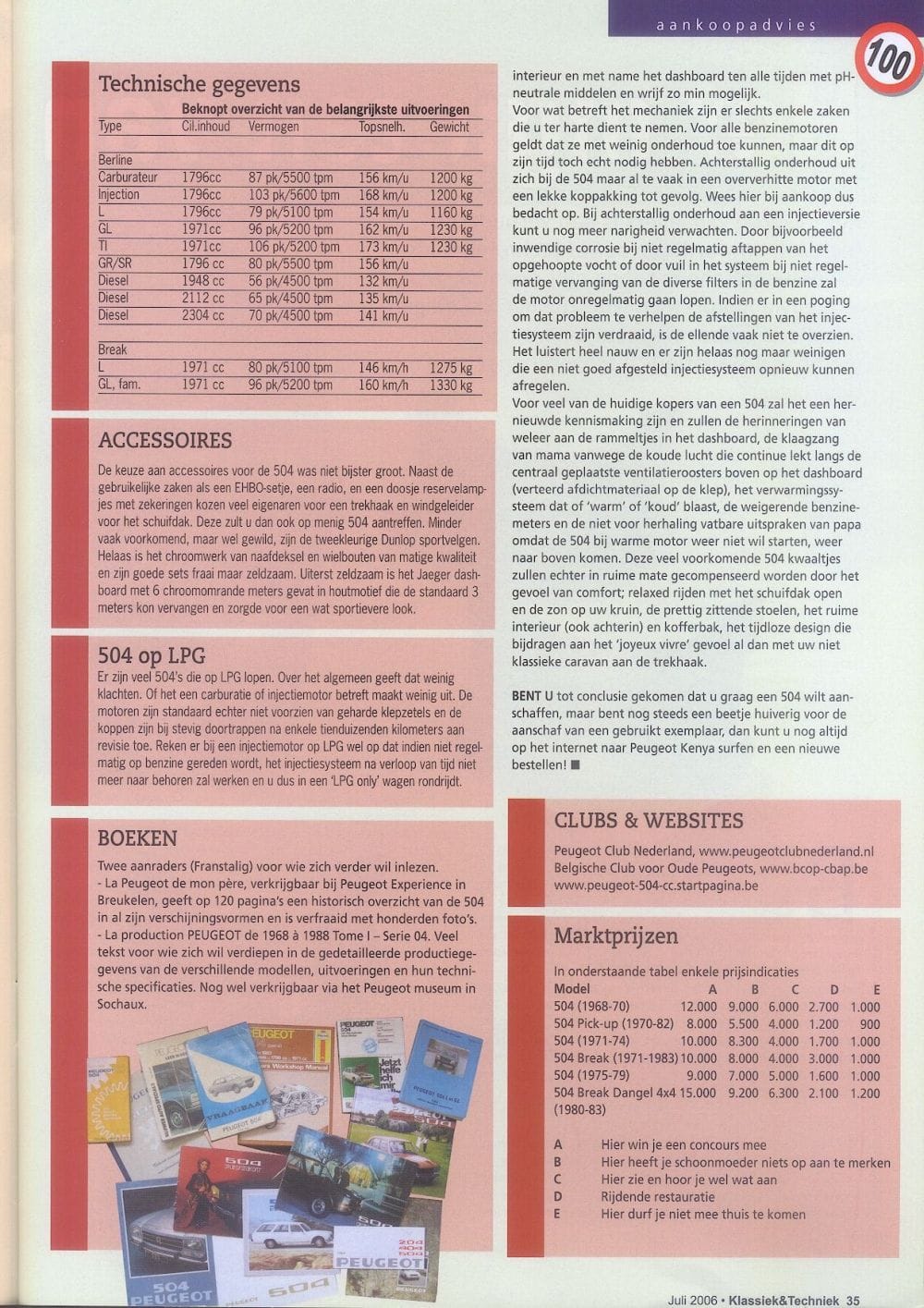 2007 Shoot for the Movie / Video: Mömfiü
Mömfiü (you know when) https://www.imdb.com/title/tt1725638/
A phenomenological research on Film-Noir. The detective, the commissioner and femme-fatale understood as the driving forces of film-maker's psyche; the effect of this trinity on the viewer and on creating new methods of narrative: A private detective (Peugeot 504) is hired by a mysterious person (Land-rover) and has a mission to find a missing lady (BMW Z3) but he is not aware that actually a larger scale plan is set on himself.
2018 Magazine - Onschatbare Klassieker